Our current schedule consists of the following large scale event.
Jerusalem Mills
Gunpowder Falls Park, MD
October 10-11, 2009
For the rest of the events we will be attending, take a look at our schedule.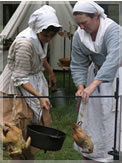 The 5th Pennsylvania Regiment/4th Battalion is an organization comprised of volunteer living history reenactors keeping alive the history of the American Revolution through battle reenactments, school programs and living history demonstrations. The period of history we portray is from January 5, 1776 through December 31, 1776 as the 4th Battalion and as the reconstituted 5th PA Regiment throughout the remainder of the war.